Welcome!
Meadowbrook Stables is a full service hunter/jumper equestrian facility located in Chevy Chase, Maryland. We offer lessons to all levels of riders from age 6 through adult, as well as boarding, leasing, summer camp, and a variety of horse showing options. Browse through this site for information on our riding lesson, camp, Interscholastic Equestrian Team, and other programs!
Here's what our riders have to say about us:
"Meadowbrook is the ideal riding facility in DC. The location cannot be beat for those living or working around the DC metro. The trainers and barn managers are supportive and knowledgeable, knowing exactly how to meet the needs of riders and horses. Meadowbrook supports beginner riders (children or adult) through advanced riders looking to compete in rated shows. Lessons are at convenient times for children and adults, and groups are organized to ensure each rider is progressing in his/her knowledge of riding and horsemanship. The horses are exceptionally well cared for, and the barn is clean and well maintained. I highly recommend Meadowbrook to any riders looking to learn the basics, advance their skills, or take their riding to the next level."
-Kim
"My daughter has been riding at Meadowbrook for almost 4 years now. The stables are beautiful and in a very nice setting. The horses are extremely well maintained, the staff is very professional and at the same time super friendly and nice. The quality of the lessons is very high and the general atmosphere at the barn is very warm. I would certainly recommend it as the best place to ride in the DC area. I looked at different barns when we arrived in DC and this one is clearly the best close to DC. My daughter loves it. She learned a lot, certainly on horsemanship but also on so many other aspects of life."
-Sarah
"The riding program at Meadowbrook is run and taught by a group of patient, talented and extremely dedicated professionals (school ponies and horses too!) who teach a comprehensive equestrian education. Our daughter has blossomed since coming to the barn. The fantastic programs the barn offers from group lessons, various clinics, summer camps, horse shows and volunteering with the barns outreach programs is impressive! We have found the barn to be a fun and safe place with a close-knit community of great people. The fact this wonderful facility is "within" the Beltway is icing on the cake!"
-Parent of a rider
"Meadowbrook is an excellent place for any level of hunter/jumper rider – the horses and ponies and well cared for and of very high quality for school horses, and very safe. The smallest, most beginner riders are taught with careful instruction and given ample learning time AND riding time in their lessons, and there is a program for everyone from these riders to the most advanced showing riders and everyone in between. I have ridden for over 20 years and am very lucky to have found Meadowbrook! The instructors are wonderful and the staff is top notch."
-Morgan
"In 1988, I returned to riding after a twenty-year hiatus at Meadowbrook and I am still there. The quality of the horses, instructors and staff is top notch. Running a barn with over 45 horses and a major lesson program in the heart of Chevy Chase, Maryland is challenging to say the least, but every task is done professionally and cheerfully. Riders can progress from beginners to showing at some of the top A-rated shows in the country while learning every aspect of equestrian management. I am delighted to be a part of the "Meadowbrook family" and love and respect every two-legged and four-legged critter there!"
– A.T.
Around the Stable
---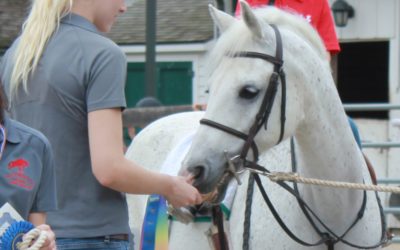 Register On-Line Now For Meadowbrook Stables Summer Camp! Jump-Start Your Riding This Summer! ★ Appropriate for ages 6-16, Beginner through Advanced ★ Week-long camps offer daily, intensive riding instruction to develop and strengthen flat and jumping skills ★Fun,...
read more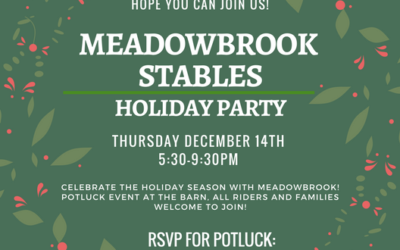 Please click here to RSVP and sign up for a potluck dish.
read more
Upcoming Events
---
February

2018

Sun
Mon
Tue
Wed
Thu
Fri
Sat